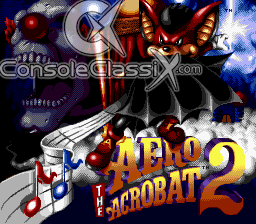 Aero the Acro-Bat 2 (Sega Genesis)
Action You Can Sink Your Teeth Into!
The aerialist extreme, Aero the Acro-Bat bounds back into the spotlight once again to stop the wicked industrialist, Edgar Ektor!
Aero has entered a new realm of enchantment and must now use all his acrobatic prowess to foil a criminal plot known only as "Plan B!"
Join Aero as he discovers new friends (and enemies) in a world custom built for his high-flying adventures!
--from the back cover of Aero the Acro-Bat 2 for Genesis

A great sequel to Aero the Acro-Bat for Genesis. Personally, I loved playing the first Aero just as much as I loved playing Sonic, and that's quite a bit. Aero is very similar to Sonic in many ways, and I think, every bit as fun to play. This sequel is a bit different from the first one for Genesis. The colors aren't nearly as bright and the music not as fun, but hey, we aren't at the circus anymore. Run and fly around as a zany little bat who has plenty of attitude to spare. Face evil clowns (clowns are always creepy, eh?) and the machinations of the evil Ektor (the creepiest of the creepy).

While I have said that it isn't quite as fantastic looking as the first one, it still looks pretty good and the animation is very smooth. I found this one to be a joy to play as well. The levels, or Acts, are good-sized, and finding every hidden thing can be an enjoyable challenge.