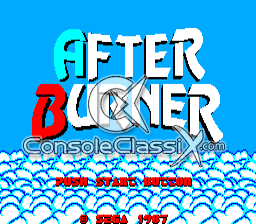 After Burner (Sega Master System)
You're an ace fighter pilot. For wings you have an F-14 Thunder Cat, the most advanced fighter jet ever developed.

In the sky, you are the perfect combination of man and machine. The country's freedom depends on your success. Good luck.
--From the Sega Master System After Burner instruction manual.

After Burner is a jet fighter pilot game. Released on the Sega Master System, you control a jet fighter armed with machine guns and missiles and must destroy enemy fighters for points. You pilot your jet over various terrains, such as ocean and desert, that change when each level is completed.

After Burner doesn't have any real direction, as each level just increases the frequency of the same 2 enemy jets. There is no "main battle" at the end of a round as the terrain changes and level change is announced. Playing through 5 levels, the only abnormality to occur is this large jet and the end of round 3 that you can dock with for bonus points. No other reason, as your jet has an inexhaustible supply of fuel and weapons.

Graphics are good, with abundant color, and the sound of your jet in flight seems realistic. Gameplay is pretty easy, but as I said, not much excitement or variety within. Controls response, I would say is fair. It's kind of difficult to hit your enemies unless they are real close. Sometimes a missile will find a distant opponent, but that doesn't happen too often.

Afterburner is just "OK". It could've been a better game with a few surprises or unique enemies or mission scenarios, but there doesn't seem to be any. After Burner didn't ignite my interest, it just sort of fizzled out.