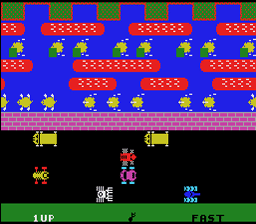 Frogger (Coleco)
Leapin' Frogger! Home may look like it's only a hop, skip, and a jump away, but looks can be deceiving. First, there's a dangerous highway to hop across, full of cars and trucks. Then there's a swirling river to leap, full of frog-eating creatures. How's Frogger going to get home safely? By letting you hop him on his way. Guide Frogger safely through this perilous journey, and you'll jump for joy!
--From the Coleco Frogger instruction manual.

This is the Colecovision version of the ultra-popular video game Frogger. Originally titled "Highway Crossing Frog," the name was changed to simplify it and increase appeal. In this quality home adaptation of the arcade hit, you must guide Frogger across a busy highway and treacherous river to his home on the other side.

The graphics are of good quality for the early 1980s. Lots of color and decent detail adorn this cornerstone of legendary arcade status. The "Frogger Song" plays much like the original, and accompanied by the hopping sounds, it is definitely a good representation of the original. Gameplay is good, and controls, which are limited to simply moving one hop at a time, respond very well. This is an enjoyable version of the classic Frogger and, with good graphics and gameplay, can provide hours of fun.