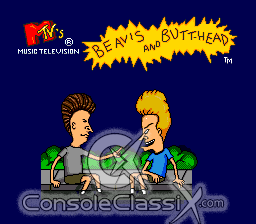 Beavis and Butt-Head (Sega Genesis)
Based on the popular MTV cartoon, Beavis and Butthead the game is a lot better than you might think. Take on the role of Beavis and/or Butthead in order to solve wacky puzzles, and get the best of Todd, Anderson, the Principal, and other characters from the show. All in a quest to find the missing pieces of Beavis and Butthead's GWAR tickets. Huh-huh. Uh-huh-huh.

The graphics and sound for Beavis and Butthead the game are right in line with the cartoon, meaning it's not done very well but it has the same look, sound, and feel of watching the show, only you're in control now. Which may not be a comfortable place for some of us.

Anyways, give this game a try. Wander around, get into some trouble, blow some stuff up, have a good time. Try not to get your butt kicked, cuz when these two die they are definitely not going to Heaven.