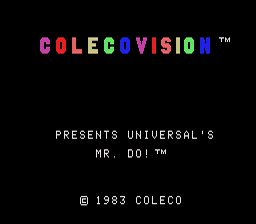 Mr. Do! (Coleco)
Guide Mr. Do as he tries to harvest his orchard before the evil Badguys can catch him. Quick! Mow a path to the cherries and start picking! But watch out--here comes a Badguy! Throw your Power Ball to squelch him. But more are on the way, so run until your Power Ball comes back.

You're not completely defenseless, though. You can push apples on top of the Badguys to quash their pursuit. Now dash to the center of the screen and capture the treat. Even though the Badguys freeze for a few moments, three Blue Chompers and an Alphamonster enter the scene. But don't let them near Mr. Do! Eliminate all five Alphamonsters to spell E-X-T-R-A and win an extra Mr Do!
--From the Coleco Mr. Do! instruction manual.

Do the Mr. Do!, if you liked Dig Dug. This game is very similar to that one. There are monsters that run around trying to get you, and you have get them before they get you and/or get the fruit from your orchard. In this game you are 'mowing' a path instead of digging one. The graphics look much like Dig Dug. The screen is black, with different colors of whatever in the world it is that you are mowing down to get around the orchard. When you mow, the color vanishes to reveal the black underneath. The designs are fairly basic and repetitive, but easy to understand. The music is happy and corny, but not that annoying. The sound effects aren't anything really grand. They are your basic blips and bleeps and get the job done, but you're not likely playing this kind of game because you just love to listen to it.