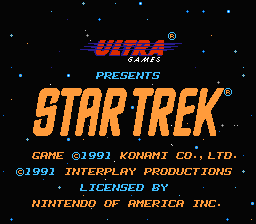 Star Trek 25th Anniversary (NES)
On orders from Starfellt, the crew of the U.S.S. Enterprise was in the vicinity of Sigma Iotia collecting data on strange disturbances in the local gravitational and magnetic fields. The fluctuations produced a mysterious "hole" in space and, as the hole grew in size, the Enterprise was nearly drawn into its center. Miraculously, at the last moment a space distortion threw the Enterprise and her crew into the heart of uncharted space. Safe from harm for the time being, it is up to the Enterprise to return to the Iotian system and find a way to reverse this rip in space before it grows too large and the galaxy is annihilated!
--From the NES Star Trek 25th Anniversary instruction manual.