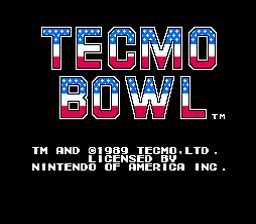 Tecmo Bowl (NES)
Tecmo Bowl on NES is not the first home console football game and is certainly nowhere near as realistic as today's versions, but it has to be the first fun football game in video game history. It may be the first with actual 11 man teams, but don't quote me on that. Featuring 12 NFL teams with rosters full of actual players on those teams at that time, you can play such greats as Walter Payton or Tony Dorsett.

Tecmo Bowl features all of the facets of the game: running, passing and kicking. You play 4 quarters of 1:30 each, which doesn't sound like much time, but it's plenty. There are no penalties, however. Gameplay is smooth and controls respond very well. Avoiding tacklers is kind of tough, but can be done. They are faster than you in the open field, but you can dodge them when they dive at you. Passing the ball is pretty easy because your receivers always catch the ball when they are open. If they are covered by a defensive player, it almost always results in an intercepted pass for the defense. Kicking field goals is easy, too. You do not have to aim your kick, just hit the meter at full and you can make them from the 50 yard line or closer.

The graphics are of the Nintendo era, of course, but if you are a fan of this game, it doesn't matter. It's very musical with various different themes for scoring, end of a quarter or at halftime, and during gameplay. Tecmo Bowl can provide hours of fun, either head to head with a friend, or in 1 player mode versus the computer. A Japanese original combined with an American original, and what a combo it was.