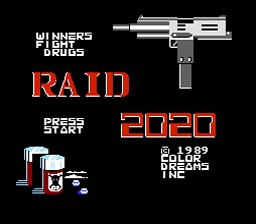 Play Control: 2
The control is t-totally, tremendously awful!
Graphics: 1
Pretty bad, even for a Nintendo game!
Animation: 2
Very limited. The player character always has arm stretched out with gun in hand.
Music: 1
If you want to hear a lame song that plays over and over and over again, this game's for you!
Sound FX: 1
Truly hideous... I am not going to describe it at this moment.
Plot: 3
The year is 2020, and you have to go up against time-traversing drug runners. Super weird.
Difficulity: 1
Once you start playing, you're likely to die within 12-seconds.
Replay Value: 1
No way!
Over All: 1.5
Stay away from this awful piece of NES crud and play Contra instead.
Read more of SolSnake3000's reviews.