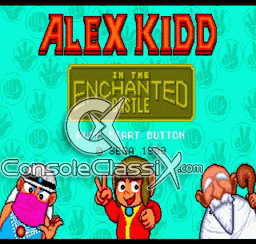 Alex Kidd in The Enchanted Castle (Sega Genesis)
The whole Kidd family is upset! Alex's father, King Thor, is missing!

At home on planet Aries, Alex hears a rumor that King Thor's been kidnapped by Ashra, the mean ruler of planet Paperock. Alex speeds to Paperock and starts searching for his dad.

But he runs right into trouble. All the creatures on Paperock decide to keep Alex away from Sky Castle, Ashra's hideaway. They block his path and chase him when he tries to get away. So Alex gets tough! He knows how to jump, punch, and kick. And he finds out how much fun it is when the creatures explode!

Alex uses his power wallops on anything that gets in his way. And then he grabs the gold and treasures that magically appear.

But a big surprise is waiting for this Kidd. Alex finds himself dragged into a game of Janken with the Paperock bullies. In this game, he's got to make a hand signal for paper, scissors, or rock at the same time as his opponent. If not, Alex gets bonked out and loses some of his gold. How embarrassing.

Will Alex make it to the Enchanted Castle and find his dad? Or will the smart-aleck Paperocks get a good laugh? It's up to you!
--From the Sega Genesis Alex Kidd in The Enchanted Castle instruction manual.

When this was released it was around the release of big titles for Nintendo and a launch of Sega with Sonic. With all the games going after adults, Sega released this Japanese port to America hoping to appeal to kids. Alex Kidd was actually already famous on the Sega Master System and in Japan. This was the first and only one on Genesis.

This platformer game is really pretty difficult. Killing enemies is often very difficult to time and with just one hit you can die. So, while it looks like a game for little kids, the younger ones may find it to be overly frustrating.

The colors are bright and the detail is pretty good. Animation is as smooth as you'd expect from a Genesis game. The music is bright and jouncy and not that bad. There's a nice variety to the game, since you get to pick up so many different kinds of items that change how you play the game. This is a fairly addictive little game.