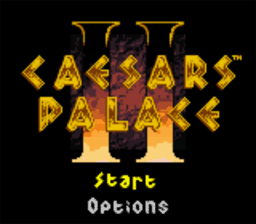 Caesars Palace 2 (Gameboy Color)
This game really is a hand-held casino. Well, at least when it was on the Gameboy. Now it's a desktop casino. There are enough games on here to keep you busy for a while. There is Big 6, Roulette, Black Jack, Baccarat, 6 kinds of slots, 4 kinds of poker, 4 kinds of video poker, and no one can forget Keno.

It has the same quality of graphics as the first one, but this one is in COLOR. You have the spunky MIDI-tones for background music, and then the appropriate sound effects: swishes for the cards, money falling for the slots, and other stuff like that. If you get good enough, you get invited to the High-Rollers section. Make sure you have a lot of time when you start playing this one, because it can become addictive.