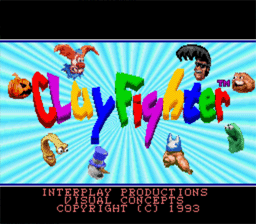 Clay Fighter (Super Nintendo)
Clay Fighter came out when fighters were at their peak, using cool 3D graphics in a fighting game. The result was a weird looking fighter that's lacking in game-play but overflowing with novelty. I will give Clay Fighter credit for coming up with something that is imaginative.

The well-rendered but undesirable clay characters are: an Elvis impersonator, a scarecrow, a blob, a fat opera woman, and an evil snowman. Definitely unusual characters. There are some humorous animations and sounds, such as the Elvis saying, "Thank you very much" after defeating someone.

The fighters perform very strange attacks, using their clay form to change shape. While pretty funny and entertaining at first, ultimately it means more sucker punches and less skill shots. And though the clay fighters are rendered pretty well, they aren't animated very smoothly, making it hard to make out what's going on in close combat.