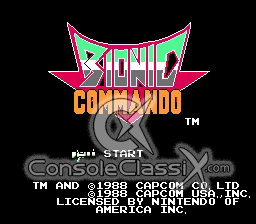 Bionic Commando (NES)
I'll talk about a person which I've met when I was young.

In 198X we've found Nazz's top secret material called Albatross, a plan which never was put into practice. Imperial forces General Issimo Killt had never seen this plan, and decided to materialize this plan.

The federation decided to stop his attempt by sending our hero Super Joe, but lost contact with him. Our brave man (you the player) was sent to the empire with a special mission to rescue Super Joe, this story begins from here...
--From the NES Bionic Commando instruction manual.

Bionic Commando is a pretty fun game. The graphics are well drawn, and the color palette was well chosen. The music was pretty good, but I found the sounds annoying. There were too many high pitched noises and white noise. The controls were responsive, but the bionic arm maneuver has nuances that are a little tricky. The gameplay is fun, but I didn't like the lack of ability to jump. In place of jumping you have the bionic arm. This unique game is definitely worth a try.