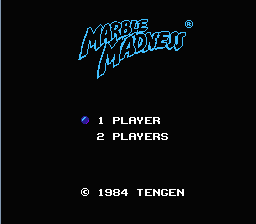 Marble Madness (NES)
MOVING THROUGH THE MAZE

On each raceway, you must try to move your marble through a 3-D maze toward the Goal Line. At first, you'll have to search for the Goal Lines. Once you know where they are, you'll be able to get there faster!
--From the NES Marble Madness instruction manual.

Marble Madness was a pretty fun and original game. The challenge rating was pretty good too. The controls were kinda weird at first, but once you get used to it, it's easy. The sounds in Marble Madness were very enjoyable. I especially liked the sound effect when your marble falls off a cliff. It sounds like he yells or something. The three dimensional obstacle courses are well drawn, and there are several interesting ways to see your marble die, from getting broken into pieces, to melting in a pool of acid. Marble Madness was all around a very fun and challenging game. I suggest you give it a try.