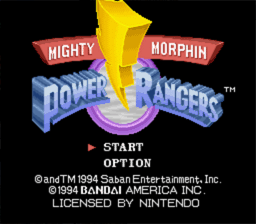 Mighty Morphin Power Rangers (Super Nintendo)
GO GO POWER RANGERS! Based on the hit 90's live action show, an evil sorceress by the name of Rita Repulsa has come to conquer Earth. A wise wizard, Zordon, and his faithful robot assistant Alpha 5, knew that they would have to give the legendary power to five young people... teenagers with attitude. Only Jason the Red Ranger, Billy the Blue Ranger, Zack the Black Ranger, Kimberly the Pink Ranger, and Trini the Yellow Ranger can stop Rita and thwart her evil plans once and for all.

I fondly remember the Mighty Morphin' Power Rangers, and playing this game helps to relive those childhood memories. Just the opening screen, when you see the logo and hear the theme blaring, you know you're in for something good. Each of the heroes is well detailed in the game, each with their own style of combo hits, weapons, and appearances when unmorphed. Each ranger looks figuratively the same in their suits which may draw some frowns, though, even if it isn't that big of a deal. Every stage in the game, from Downtown California to the Sewers, sets the mood with choices of color and types of enemies you encounter. The sound is done well, the theme song at the beginning is pretty clear for an SNES game, lyrics and all, and the music in each stage really adds that extra boost of excitement while you play. If you're an old fan, this game is right up your alley. If you're just an average gamer who isn't quite familiar with the show, give it a try and see how you like it.