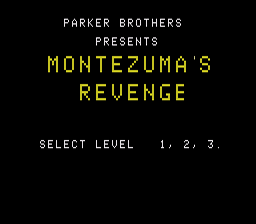 Montezuma's Revenge (Coleco)
PANAMA JOE. That's what they call him 'round these parts: though no one knows his real name or where he comes from. But one thing's for sure. PANAMA JOE's a daredevil from the word "go!" No risk's too great if the reward's large enough. Winning, that's what's most important to him. And more times than not, that's exactly what he does. Because he's tough, clever - resourceful. And sometimes, downright pig-headed! Though occasionally (ah-hum), he's been known to get in over his head. Luckily, he's got a knack for getting himself out of hot water as quickly as he gets into it! Let's hope MONTEZUMA'S REVENGE is one of those times.
--From the Coleco Montezuma's Revenge instruction manual.

This game is very similar to Super Mario Brothers for NES when you were underground in the tunnels. It has that kind of feel. Except in this game you have to collect keys, and the enemies are much different. Also, it looks a little older (cause it is) and a bit more simplified.

The graphics can be a bit confusing, since they are so simple that it makes it hard to tell what the writers intended different things to be, but hey, it's my job to clarify this. With my help you should find this an imminently playable game. I won't give a complete walk through here. I think that just takes all the fun out of it. I will tell you what things are, and then you can find your own way through the game.

The sound effects are extremely basic and limited to blips, bleeps, and static and one short bit of music when you pick up a key or other item. Makes me really miss the underground Mario music.....

If you're looking for a challenge, this game certainly is one.