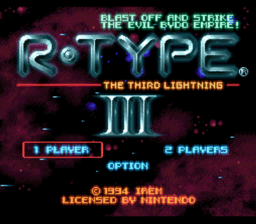 R-Type 3 (Super Nintendo)
BYDO RETURNS!

The dark forces of the BYDO Empire threaten humanity yet again, with more powerful weapons than ever. Over the past few years, they have crept close to Earth, building hidden bases for their fleets. The Earth Science Center had believed that all of the BYDO Empire was destroyed. Now they know that somewhere a BYDO mother ship carries the remnants of that foul civilization. Earth will be overthrown unless the latest R-series vessel, the R-90, can defeat BYDO's armies. Equipped with the mighty Round, Shadow, or Cyclone Forces of power, the R-90 can warp into different dimensions and meet the enemy ships and ground troops on an equal basis. As the Captain of the R-90, you must seek out the mysterious mother ship and destroy it to save humanity.
--From the Super Nintendo R-Type 3 instruction manual.