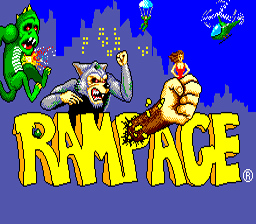 Rampage (Sega Master System)
Partners in Crime

You and your buddy are ready for a little action tonight, 'cause you just happen to be in the mood to tear up the town. What a riot! You'll demolish buildings, grab and chomp horrified spectators and other yummy morsels, and flatten puny helicopters and other antagonists who try to stop you.

But you won't stop at just one town. This game has 10 cities for you to trash.

You can choose any one of three naughty monsters -- Ralph the Wolf, George the Ape, or Lizzie the Lizard. Ralph has the meanest punch. George is best at scaling buildings. And Lizzie -- that Lizzie -- she's the fastest thing on four feet.
--From the Sega Master System Rampage instruction manual.