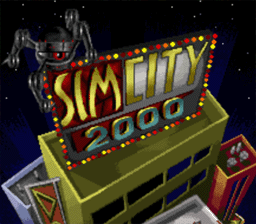 SimCity 2000 (Super Nintendo)
Welcome to the Simworld. You are in charge of building a city that will grow and eventually gather sims from all over the sim world. But it isn't easy. You have to make sure your sims are happy and safe. You must build power plants, police stations, roads, and every single object that a real human would use in real life. We've all said we could do better than our leaders - here's your chance to prove it.

So you built your sandcastles and cities in the sandbox when you were a little kid. Now, you sit at a computer and build huge virtual cities with virtual people. As the leader, your controls are pretty hard to get used to, believe me. And it's really hard to figure the game out, so I'll let you know how to start a good city in the directions. Also, one more thing, the music is pretty annoying.