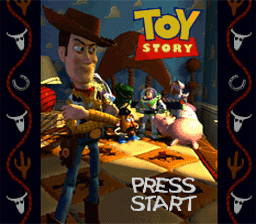 Toy Story (Super Nintendo)
You are Woody, a cowboy doll who has come to life in a room full of toys that have come alive too. You've got a pretty nice life, keeping the toys in line, and making sure nothing bad happens. Everything is going great for you until a new toy shows up. He's so cool, all the other toys like him more than they like you. One day, your owner, 6 year old Andy, is going to Pizza Planet, and he wants to bring this new toy. So, in an act of jealousy, you try to get rid of him by knocking him behind a drawer. But it backfires and you send him out the window! Now the toys hate you. Can you get the new toy back and regain the other toys' respect?

I'm a fan of Toy Story. I'm sure several of you are too. This game is a very addicting one, and a very challenging one. The music is very good, and it doesn't sound too scratchy like in some of the other games. You get to play along with the movie, although it has some added elements to make the game more challenging and longer, thus taking away its accuracy to the movie. I'll tell you what else makes this game cool - it has several modes of play! There are levels where you are above the action, and one level where it's first-person! But there's a lot of screen-scrolling, so get used to that.