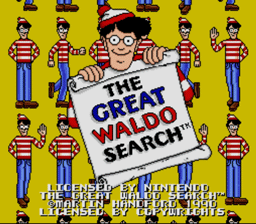 Great Waldo Search (Super Nintendo)
A Friend In Need...
It seems that Waldo's good friend, the wizard Whitebeard, has lost five magic scrolls in the Realm of Enchantment. He asks Waldo if he can locate the scrolls for him before it's too late!

Well, our globetrotting hero can't resist a challenge, so he takes his trusty canine companion Woof along on their new adventure! Now it's up to YOU to spot Waldo and the missing scrolls as well as bonus points and much more! So keep a sharp lookout for fun in this colorful fantasy for the whole family!
--From the Super Nintendo Great Waldo Search instruction manual.

The great searching game to find that elusive Waldo has come to the video gaming world. Find all the items before time runs out and win the area. There are four different areas, each with varying difficulty. Play by yourself or play with a friend and see whose score is the higher. Also find Waldo's dog and go on a magic carpet ride. Happy Hunting!

The Great Waldo Search is an interesting game with good graphics but little animation. The music of the game is good and entertaining. All in all, this is an entertaining game that you should try.