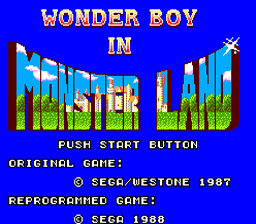 Wonder Boy in Super Monster Land (Sega Master System)
A long, long time ago there was a very young boy by the name of Bock Lee Temjin. His friends just called him Tom-Tom.

One day he and his best friend Tanya were playing when the evil King came, grabbed Tanya, and took her away to his woodland kingdom.

Tom-Tom was very angry. He wanted Tanya back, so he set off to rescue her. He looked everywhere. He traveled through deep forests, dark caves and even across oceans. Eventually he found the woodland kingdom, fought with and defeated the evil King, and rescued his girlfriend Tanya.

Word of Tom-Tom's daring and courageous adventure soon spread throughout Wonder Land. The people were very proud of him and gave Tom-Tom the highest honor of all - the legendary name of Wonder Boy.

With the evil King defeated, Wonder Land returned to its original quiet and peaceful state.

But nothing lasts forever.........

Eleven years have gone by. For over one decade the kingdom of Wonder Land was a paradise. Everyone and everything lived in harmony together.

The peace was broken when a ferocious fire breathing dragon appeared out of nowhere and took over Wonder Land with an army of evil, monsterous henchmen. Wonder Land was immediately thrown into utter chaos.

Not knowing how to fight, the people were quickly taken over and the tranquil and serene kingdom was transformed into a land of demons and devils.

Wonder Land was now a Monster Land.

The terror-stricken people could do nothing. But they remembered a brave lad who, years before, had single-handedly come to the rescue.

Would he help the kingdom again?

Wonder Boy, now a teenager, was summoned. Realizing that he was Wonder Land's last hope, Wonder Boy set out on an incredible journey to rid the country of the demons and monsters...and to somehow find and destroy the invincible, evil MEKA dragon!
--From the Sega Master System Wonder Boy in Super Monster Land instruction manual.