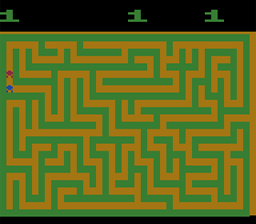 Storyline:
You're a cop confronting danger and suspense as you and your opponent wind your way across the city blocks. The first player to reach the exit on the right side of the maze wins the game.
Throughout the game you may encounter armed robbers, blockades, and other obstacles to prohibit you from finishing your beat.
--From the Atari 2600 Maze Craze instruction manual.