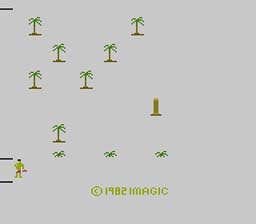 Storyline:
Hieroglyphics on an ancient obelisk tell a strange tale
These are dark times. Death's long shadow rests across the Valley of the Kings. Anubis, jackal-headed god of the dead, has cast his curse over all of Pharaoh's kingdom. A plague of scorpions and hordes of thieves lie thick upon the land. O hear the thin whine of despair! Sing of Pharaoh's Son, all hail the Prince of Egypt! Deliver us from this curse! Brave the dangers of the desert. Seek the answer to the Riddle of the Sphinx. Pay Anubis' ransom with your treasures, O cunning Prince of Wiles. Reach the Temple of Ra, source of light and life. Pharaoh's heir--be wise, be wily--and beware!
--From the Atari 2600 Riddle of the Sphinx instruction manual.