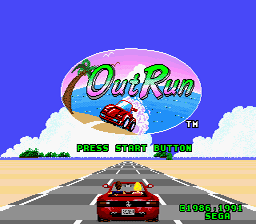 Storyline:
Rev up Your Engine!
Get ready for a wild drive across every region imaginable. Reach the check points before time runs out to advance to the next stage - if you don't, you will be disqualified. But drive carefully! Watch for slower cars on the road and hazardous obstacles off the road. Stay alert or you will crash, seriously damaging your chances of setting a speed record.
This is the most demanding car rally ever! Never has a race course had this range of terrain. Prove to the world that you are the master of the highways.
--From the Genesis Outrun instruction manual.
All copies are in use - 1 copies are available for full accounts.
Play Outrun Now!