Tom & Jerry
Available: 1

*You Must Download And Install The Client Before Playing.




Tired of ads? Upgrade to a full account.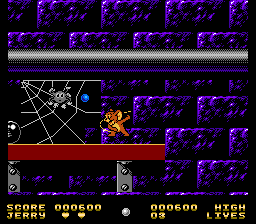 Storyline:
They're at it again! That frantic feline and mischievous mouse
better known as Tom and Jerry! This time Tom's mouse-napped
Jerry's nephew Tuffy and locked him in a trunk up in the attic.
Now it's up to you to help your furry little buddy, Jerry, dash
his way up from the basement through every level of the house in
order to rescue Tuffy in time. Along the way, you'll encounter
dozens of household obstacles, hidden dangers and hilarious
surprises... not to mention lots and lots of cheese. So get a move
on already -- and watch out for that cat!


--From the NES Tom & Jerry instruction manual.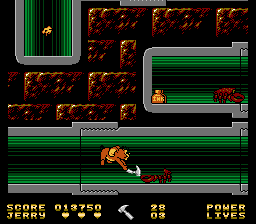 Average Player's Rating: 4 of 5
srtformula's Rating: 5

THIS GAME RULES

yoshimtu's Rating: 3

Hard to understand what's what and what's a trap. do one thing wrong and you're prob screwed




If you enjoy Tom & Jerry, try these classic console games.
| | | |
| --- | --- | --- |
| | Tom & Jerry | GB |
| | Tom & Jerry: Mouse Hunt | GBC |
| | Tom & Jerry: Frantic Antics | GEN |
| | Tom & Jerry: The Movie | SGG |
| | Tom & Jerry | SNES |




Tom & Jerry Categories