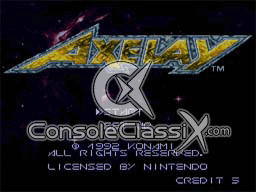 Storyline:
YOU'RE IN A WORLD OF HURT.
Things are looking bad for a peaceful cluster of worlds in the Illis solar system. One of their reconnaissance satellites has picked up an evil presence 1.2 light years away - and it's drawing closer. The dark Armada of Annihilation pulses forward, devouring all the planets in its way, their vast array of weaponry poised and ready for any massive army that may try to stop them. However, it may not be a large force that can defeat them, but rather a force of one.
--From the SNES Axelay instruction manual.
All copies are in use - 2 copies are available for full accounts.
Play Axelay Now!