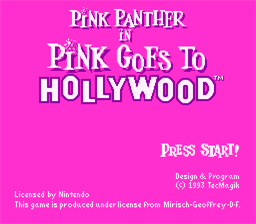 Storyline:
TALL, PINK AND HANDSOME!

Everyone dreams of being a movie star, especially Pink Panther. He's just hit Hollywood, on his way to audition for an important role that will put his name in lights!

On his first day at MGM, Pink manages to wreck a scene starring the hot-tempered Inspector Clouseau. Not one to take injury lightly, Clouseau sets off on a hunt to foil Pink's chances at stardom!

The ever-resourceful panther races around the backlot, bombarded by rowdy cowboy boots, nutty squirrels and too-ripe turkey stuffing. He fights back with a bug sprayer full of "pink" and handy gadgets from his Bag of Tricks. He creates chaos on every movie set he dives into, from Pinkinhood to Pink Chill to Cat on a Hot Pink Roof But will his big break ever come?
--From the SNES Pink Goes to Hollywood instruction manual.