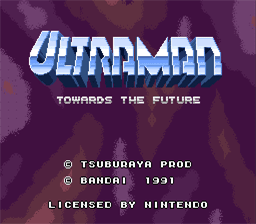 Storyline:
The Ultraman Story

Ultraman is the ultimate warrior and protector of peace in all the universe. Fore eons he's been fighting an intergalactic battle against Gudis, an evil virus which attempts to wipe out all competing life forms. Now the Gudis virus has infected Earth, producing a horrifying group of giant Mutant Monsters to carry out its goal of the complete obliteration of life on the planet.

Ultraman now must battle Gudis and his mutant monsters on Earth. But earth's polluted atmosphere is deadly to Ultraman. To fight in this world, he has become part of the molecular structure of a human - Jack Shindo. When all else fails, Jack transforms into Ultraman using the Delta Plasma Pendant. But Ultraman can battle on Earth for only three minutes before he must return to human form.

Can Ultraman save Earth and all of its inhabitants against Gudis and the mutant monster menace? He must, for he is our only hope.
--From the SNES Ultraman instruction manual.