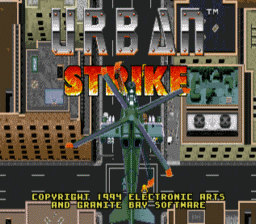 Urban Strike (Sega Genesis)
Carry out all your missions without dying and save the U.S. from certain anarchy!

When Urban Strike was released it had a fairly unique idea for a helicopter game. Set in the year 2001, the drug market is running wild, criminals roam the streets, and Iraq is on our side. Urban Strike was basically the same as its predecessors, Desert Strike and Jungle Strike, except it was in an urban setting. You will need to fly your helicopter all over the U.S. Some of the cities are: New York, San Fransisco, and Las Vegas.

The graphics and sound are pretty good for this game. I like the techno music and the explosion sound effects were great too. All in all I would say that Urban Strike is a pretty fun game.