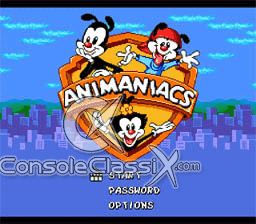 Animaniacs (Sega Genesis)
Our story begins...
     In the 1930s, a period regarded by many as the Golden Age of Animation. Many studios in Hollywood were pumping out reels and reels of new cartoons. During this time, one of the more eccentric and gifted animators at Warner Bros. created the Warner brothers and the Warner sister—specifically, YAKKO, WAKKO and DOT.

     From the beginning, however, these three were labeled too wacky, too wild and just too zany to be let loose on an unsuspecting public. Their comical genius was too far ahead of the times. Behind top-secret closed-door meetings, the studio executives, vice presidents, managers, managing vice presidents, chief executive vice directors of managing, and some people who were really important, decided to lock them up immediately in the Warner Bros. Water Tower.

     They remained imprisoned in that water tower for over 60 years, when they escaped! As soon as they got out, the Warner brothers and their sister immediately began to amuse themselves by wreaking havoc upon film stages all across the studio lot.

     One day, they found something even more entertaining to do. They decided to collect various items used in movies from Warner Bros. Studio and open their own "hip pop culture" shop. Join them now as they pursue their "life's dream" of the day.
--From the Sega Genesis Animaniacs instruction manual.

     The Animaniacs adventure game has colorful, interesting graphics and puzzles that can be solved intuitively. That there are three characters adds to the fun, because each exhibits a uniquely individual personality. They rubber-band apart as you begin moving them and they clumsily crash into each other when you stop them. When not in motion, they show signs of boredom.

     There are six stages (and in this game they are literally movie stages) that they must complete, each with a different item to be found. The final stage includes Pinky and the Brain, so if you overshoot them on the way, apparently you shouldn't be concerned.