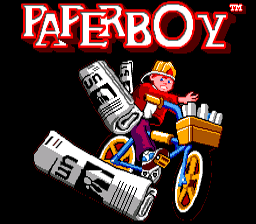 Paperboy (Sega Master System)
Paperboy is an old arcade game I'd played a few times way back in the day. I remember now how much I liked it, just didn't see it too often, and I don't believe there ever was one in our little community. This Sega Master System version is a fun, almost addicting kind of game.

In Paperboy, you are the paperboy, riding your bicycle down the street (or up the street, as this is in the top scrolling format) delivering the daily paper to your customers. You also have non-customers on your route. Of course, all kinds of perils are out there to prevent you from doing your job. You must deliver the paper to your customers by throwing it either onto their doorstep or in their paperbox. You also have non-customers, in dark, gloomy houses, which you can throw your paper through their windows.

Graphics are pretty good in this game. Everything has good detail and color. A tune plays as you pedal along, but there aren't many more sound effects. Just the sound of a score when landing a paper on a porch or in a paperbox, and the crashing of windows or your bike. Controller response, I would have to say, is OK. Control of your bike is good, but throwing the papers could leave a little to be desired. Still, it doesn't make the game not fun, and it might just be me and my timing.

All in all, I would recommend this game to anyone. It's a pretty neat game with an obstacle course type of challenge to it. Extra!! Extra!! Paperboy is a good one!!