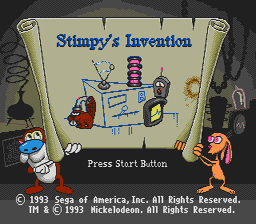 Ren & Stimpy Show: Stimpy's Invention (Sega Genesis)
Watch out, man!!!


Stimpy's latest invention, the Mutate-O-Matic, just exploded while Stimpy was trying to turn ordinary household garbage into a delicious glazed ham!

The pieces of the Mutate-O-Matic blew all over the place, Ren & Stimpy's lab was destroyed, and the whole town was warped!!!

Do you know what you have to do now??? YOU DON'T!!! Then read this:
Collect all the pieces of the Mutate-O-Matic.
Reassemble the machine.
Turn it off.
Relax, man. It should be easy.
--From the Sega Genesis Ren & Stimpy Show: Stimpy's Invention instruction manual.

†††††So, Ren has done something stupid. Again. And you have to help him clean up his mess or the whole world will go haywire. Seems itís doing that without Renís help, but just to play along we will help him. So our dummy-duo set out to undo their doo-doo by searching for the exploded parts of Renís Mutate-O-Matic. They search high and low and with these boys, low can be very low. They have a Neighborhood (hopefully not yours), a Zoo, the City, the Pound and the Great Outdoors to search.

†††††The game plays like a cartoon. Surprised? Ren and Stimpy are cartoons, you Moron! The great thing is that in the game you can be mindless and do incredibly stupid things, as you would anyway, but blame it on the cartoon characters. This game should satisfy the Ren and Stimpy in all of us.

†††††If you ever wanted to see two morons do some crazy outlandish moves, baby youíve come to the right place. If it can be done and is legal in most states, they will do it. One great thing is that you are not being attacked as soon as you land on the screen so you can practice the moves or just perform them for laughs.

†††††The characters and scenery have the same flavor as does the cartoon. Bright, cheerful, colorful and bizarre. The game has fun cartoon backgrounds and nice colorful secondary characters. And the sounds are every bit equal to the graphics. Every stupid thing that the duo does has a distinctive sound. Flyswatting, cat-ball spitting, whatever, it will have its own sound. The background music is also cartoon-like, enjoyable to listen to as you move about. Nothing in the manual regarding an increase in difficulty as you progress from round to round , but it should be expected. Also no mention about Bosses that you might encounter, so maybe this will be a vacation for you.