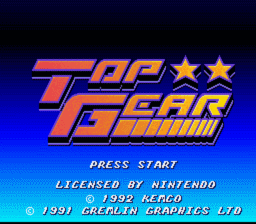 Top Gear (Super Nintendo)
Top Gear, as the name suggests, is a car racing game. Race against the clock and a field of computer-controlled drivers to see if you can become the ultimate racing champion. Or play with a friend and show off your track burning skills.

Top Gear's graphics if not perfect are certainly more than adequate, the sound effects are good and the music, unlike most video games of this type, is actually worth listening to, and won't drive you mad while you race. Plus it's a pretty comprehensive racing simulator without getting so bogged down in realism that it takes all the fun out of it.