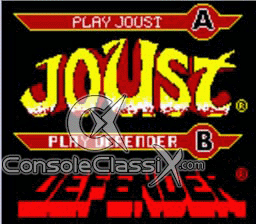 Arcade Hits Joust & Defender (Gameboy Color)
Classics being remade and ported wasn't to uncommon in the 90's! After the big video game bust, many companies were afraid to show their roots or stray too far away from them. In the late 90's when it was finally shown the gaming industry was here to stay, many companies wanted the new generation to know where gaming came from and to preserve their history. Where better than systems that never saw these games and a system that millions already owned. Make the classics portable, someone must have said at a meeting. Where some failed to deliver, Midway did the right thing and kept as much of the originals they had as possible!

The game play in these games was so simple that it made them both a blast to play. Sure, many games of their time were simple, but not all were easy, and while these games weren't meant for children, much of the general public felt comfortable playing both of these games. It may seem odd that these two games are paired, because in many people's eyes they are already paired. Ask some parents what their favorite games were and they'll say these two together. They are both fun, and both contained original side scrolling action. One on a constant platform, the other on a linear field that would change after multiple waves to another planet. You simply had to know one button for each and move fluidly, with some early physics that could judge momentum. These small enhancements are what made these games so addictive and fun, and thankfully have been practically untouched for this pack. Two games in one, and this pair couldn't have been any better. Had any of the original formula been touched in either of these ports, there would have been a tragic loss of game play value and nostalgia that would have severely ruined these games as they did in other compilations!

The graphics have been left nearly untouched as well. They tried to keep them as classic and yet upgraded as possible. It worked out very well. They remain as large as they need to be, detailed and colored while retaining the old feel with similar colors and designs. Both games are handled well for switching to the smaller screen and limited space. Nothing feels too small or left out. It keeps it amazingly close to the arcade counterparts! I was actually genuinely surprised that so much was intact. Every platform in Joust and every enemy will be easily visible, and no misjudgment will be made. Planets still change uniquely in Defender, and your laser will remain as trailing and colorful as ever. You'll be impressed to see the classics running so well on these tiny ports!

The sounds are also implemented well and manage to keep you engaged in the action, just as they did so many years ago. They didn't bother to update the cracking booms or other familiar sounds. This is very good, because many remade games suffered from uninspired and ignorant sounds that felt like they were made for kids. Not the case here. Again I was surprised, and you will be too. For once I wasn't turning the volume down on a GB game!

These games were classic then and classic now, and since nothing has been touched there isn't a thing to complain about. Sure the small resolution may make it a bit more difficult for some, but reliving these classics in full arcade glory will make you forget all about it being on the GameBoy to begin with!

That is why, Arcade Hits Joust & Defender, receives an 8.5 out of 10!