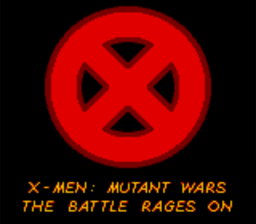 X-Men: Mutant Wars (Gameboy Color)
The war Magneto predicted has finally come. You are an X-man in the middle of the Mutant Wars. In fact, you are all the X-men.

This game isn't very hard. Fight as Wolverine, Cyclops, Storm, Gambit, and Iceman. Each character has his/her mutant power you can use. Cyclops has his energy beams. Wolverine has claws and a healing factor. Storm can control the weather and fly. Gambit throws exploding playing cards. Iceman, you guessed it, can control ice. You cannot change your character in game.

X-Men: Mutant Wars has decent GBC graphics, which means that you can tell each mutant apart, but the sound quality isn't all that great, it is basically just noise.